Serving Orlando for Over 115 Years.
More than one hundred lawyers have been associated with the firm over our history.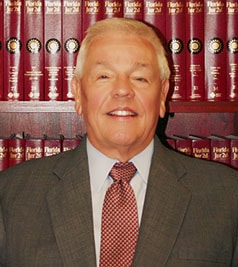 407-841-8171
email
https://gilesrobinson.com
407-425-3591
Terrance H. Dittmer (Retired)

After graduating from Western Illinois University, Mr. Dittmer attended St. Louis University Law School. Before and after graduation from law school, Mr. Dittmer worked for the Veterans Administration in St. Louis. After passing the Missouri Bar, Mr. Dittmer transferred to the National Office in Washington, D.C. where he worked as legal consultant to the Chief Benefits Director of the Veterans Administration.
The allure of taxation prompted a transfer to the IRS. Mr. Dittmer's initial position was in the Revenue Rulings division where he wrote rulings on the Tax Reform Act of 1969. His area of specialization was in Charitable Remainder Trusts and related charitable sections. As that area of the law developed he was transferred back to St. Louis to audit Federal Estate and Gift Tax returns with a concentration in charitable areas. Subsequently, Mr. Dittmer transferred to Orlando working in the same area.
After 8 years in government service, he went into the private practice of law with the predecessor to the national law firm of Baker & Hostetler. After practicing for a number of years as a partner with Baker & Hostetler, Mr. Dittmer began his own firm of Dittmer, Wohlust & Wilkins. Mr. Dittmer joined the law firm of Giles & Robinson in 2010. In addition to estate and gift tax, he has developed his practice to include wills, trusts and a substantial probate practice.
Throughout his practice Mr. Dittmer has volunteered on a number of charitable Boards. Most notable was as a fifteen year member of the finance committee of the Catholic Diocese of Orlando advising two Bishops. He served two terms on the board for Bishop Moore High School. He also was on the board of the Martin and Gracia Anderson Foundation. In addition he was on advisory boards for Orlando Regional Medical Center (now Orlando Health) and Florida Hospital.
St. Louis University School of Law, 1971
J.D.
Western Illinois University, 1967
B.A.